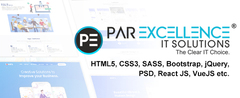 Give a boost to your business with proper website developers team.
Current Situation of the market is, people are avoiding to go out shopping because of COVID 19. It's very hard to keep social distance as everyone is not understanding and strictly following. We have to take care of ourself. So people are preferring to shop online only. 
Its really a great chance to make your business online, provide service or product online only. Digital payment is also a part of providing online services and products. to put your business online it's really important to having Best Website Developer. We Par Excellence IT Solution is providing best eCommerce Website Development services in surat with having a great Website Developer in surat.
Every essential business owners can boost their business by developing an eCommerce website. To survive in COVID19 it's really important that you take care of your online business by the best website developer. You should take advantages of online business. 
 Nowadays So many businesses are going to provide digital services through Website development. Par Excellence IT Solution is leading for the Best website development and mobile apps development services in Surat. We are having expertise in Educational website, eCommerce Website, grammar Check Website, Online Catalogue website for the Textile market. After COVID 19 that business will be on top and make a good sale which will have good Website and website developers.  To bit, the all website SEO service is also the most important factor for an e-commerce website. there are so many sellers for the same products you have to come up on google's first page and that best SEO service we are providing.
If you are looking for the best Website Developer in Surat, Gujarat, India you are at the right place. Do contact on info@peis.in to get more details about website development.